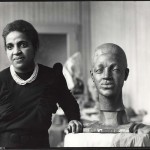 Reach in your pocket. There… find a dime & look at the face of it. On it you will find the likeness of the Great Democratic and only 3 term President of The United States of America, Franklin D. Roosevelt (He died shortly after being inaugurated for a 4th Term). It was he who put together the team & plans to pull America out of the deepest fiscal depression known in our History. But who was the artist who fashioned his likeness that graces our national currency? It was Mooresville native, Dr. Selma Burke, an American woman descended from slaves.
She was born in Mooresville, the daughter of an AME [African Methodist Episcopal] Church Zion minister on December 31, 1900. Around 1907, the young girl, playing in the mud in a creek near School Street, realized that she had a fascination with, and a God given talent for sculpting. Her mother, knowing Selma needed more "practical" training, persuaded her to further education as a certified Nurse at the school now known as Winston-Salem State University. She eventually made her way as a Nurse, to Harlem NY in 1924, and was the recipient of the Rosenwald (1935) & Boehler (1936) Foundation Grants that allowed her to study in the US and Europe as a sculptor. Her work became world renown. In 1944 she was commissioned to sculpt the likeness of the President of the United States. It was unveiled 1n 1945, after his death, by President Harry Truman. She went on to found 2 schools of art. She received her 2nd Doctorate from Livingstone College in 1970, along with another and 8 honorary doctorate degrees for her lifelong efforts.
She was an educator and had a lifelong commitment to serving the world around her. The coin bears the initials of its engraver, John Sinnock, and she has yet to receive credit for her permanent place in Americana. She died in 1995 in Newtown, PA. The mere fact that a woman of African ancestry in the 1940's was able to develop her talents & rise to such national prominence is testimony of the greatness and opportunity of America. That she continued to reach out and provide the opportunities for others to develop their own God given talents is testimony to the greatness of this most significant black woman. She was a woman born and raised here in Mooresville. She has forever woven through her craft of sculpture a piece of Piedmont North Carolina into the Fabric of America. The next time you see Roosevelt on a dime, think of Dr. Selma Burke, and think of Mooresville. Her portrait and original bust of Dr. McLelland, by her, can be found in the Mooresville Public Library.
To see a video of Dr. Burke when she visited Park View Elementary School in 1990, click on the following link: The Mooresville Museum Facebook Page.  Make sure your speaker is on.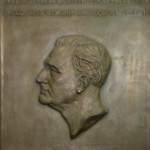 Mac Herring, BA, RN, CHPN is a local Historian, member of Phi Alpha Theta National Honor Society of Historians, Co-Chair of the Mooresville Museum, a Mooresville Town Commissioner, and a Hospice Nurse.