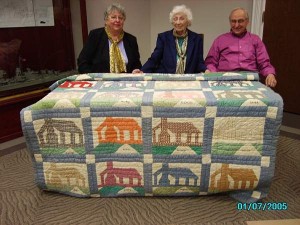 One of the first oral histories collected was about the Cascade Quilt. This quilt was created in the late 1930's by a group of women who lived in the Cascade Village. They would get together in the evenings and create the quilt squares from scraps of material which had been used to create clothing for themselves and their children. They shared with each other.
Mrs. Munday, age 93, is one of the women who created this quilt and she shared the story of its creation. Mrs. Munday commented on several of the patterns saying 'I remember that dress, it was my favorite".
To see a video about the Cascade Quilt, click on the following link: The Mooresville Museum Facebook Page.